Home Cleaning Services in Norfolk & Surr.
Give yourself one special day.
We want your Merry Maids cleaning day to be the one day you can relax. There's nothing like opening the door to your home after your local Merry Maids office has cleaned. It's the moment when you realize that your entire house is completely clean and you didn't have to lift a finger to do it. We manage all the details, so you don't have to!
We individualize cleaning services to you and your home. Over 30 years of experience has taught us that every home is as unique as the people living there.A Merry Maids representative will contact you to get a better understanding of your home and your cleaning requirements. They can then give you a free estimate based on your needs and budget.
Cleaning services customized to fit your lifestyle.
We work with your schedule and tailor our cleaning what you require. Merry Maids home cleaning services are available as:
Weekly cleaning
Bi-weekly cleaning
Monthly cleaning
One-time service
After-party cleanup
Move-in / move-out cleaning
Post-construction cleaning
Apartment cleaning
Even if you just need a helping hand after a party, or before a move into a new apartment, we'll be there with our cleaning supplies in hand.
If you're ready to hand over your housework to a professional team, our maid service is ready to create the healthy, fresh living space you and your family deserve. Call Merry Maids of  today for a free estimate or to schedule your first appointment.
Dependable Cleaning Services, The Merry Maids Guarantee
Worry-free service you can count on time and time again. One thing done completely the way you want it to be done. At Merry Maids, we guarantee it.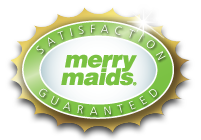 You deserve a home cleaned just the way you want it. And we guarantee it every time. If you are not completely satisfied, we will happily come back and re-clean whatever is in question at no additional charge.
If you are not completely satisfied, we gladly return and re-clean whatever is in question at no additional charge.
That describes the Merry Maids guarantee completely. No fine print. No asterisks. No worries.
Merry Maids of Foxborough Call Now

508-698-9779
38 Mechanic Street 
Foxborough, MA 02035
Customer Reviews
"Our team is very pleasant and very efficient! They listen to our requests and follow-through."
"My cleaner has been cleaning my home on a regular basis for almost 10 years. Not only is she thorough, but the house smells so nice and fresh after cleaning!"
Areas We Service
x x
Ashland
Attleboro
Attleboro Falls
Bellingham
Berkley
Blackstone
Cordaville
Dedham
Dighton
Dover
East Mansfield
East Taunton
East Walpole
Easton
Fayville
Foxboro
Framingham
Franklin
Holliston
Hopedale
Hopkinton
Hudson
Mansfield
Marlborough
Medfield
Medway
Mendon
Milford
Millis
Millville
Natick
Norfolk
North Attleboro
North Dighton
North Easton
Northborough
Norton
Norwood
Plainville
Raynham
Raynham Center
Rehoboth
Seekonk
Sharon
Sheldonville
Sherborn
Somerset
South Easton
South Walpole
Southborough
Stoughton
Swansea
Taunton
Upton
Walpole
West Upton
Westborough
Westwood
Woodville
Wrentham